Day Of Dignity 2019
Portland's Day of Dignity Event occurred on Sunday, September 8, from noon to 4pm at Park of the Elephant (North Park Block B), located between NW Burnside; NW Couch and NW Park Ave, NW 8th Ave.
Islamic Social Services of Oregon State (ISOS) is co-partnering with agencies of diverse backgrounds that share the same common interest with assisting our most vulnerable neighbors, the homeless
For 2019 we were honored to have the following organizations participation:
Jewish Family and Child Service
William Temple House
Shafa Clinic
Oregon Food Bank
Sunshine Division
Oregon Islamic Chaplain Organization
Japanese American Citizen League
Relay Resources
Potluck in the Park
Sesame Donuts
Outside In
Multnomah County Health Dept
Rose Haven
Transition Projects
Immigrant and Refugee Community Organization (IRCO) - MidEast House
University of Western State (Chiropractic Dept)
Medical Teams International - Dental Mobile
LifeWorks
Street Roots
Portland Refugee Support Group
TriMet
Oregons' Lion Sight and Hearing Foundation
Immaculate Heart of Mary Catholic Church
Volunteers of America
Supplies Provided:
   Backpacks, Sleeping bags, Rain ponchos, Socks, Knitted hats, Hygiene Kits, Feminine hygiene, Large storage carry bags, School Kits, Produce, Non-Perishable food,  Veggie burgers, Bottled water, Donuts and Chap sticks.    
Services Provided:
 Medical, Counseling/resources, Blood pressure testing, Glucose testing, Housing/Shelter, Job search, Domestic violence, Resources, Foot clinic,  Dental services, Sight/Hearing resources, Reduced public transportation applications.
Among our special visitors, was Portland's Mayor, Ted Wheeler.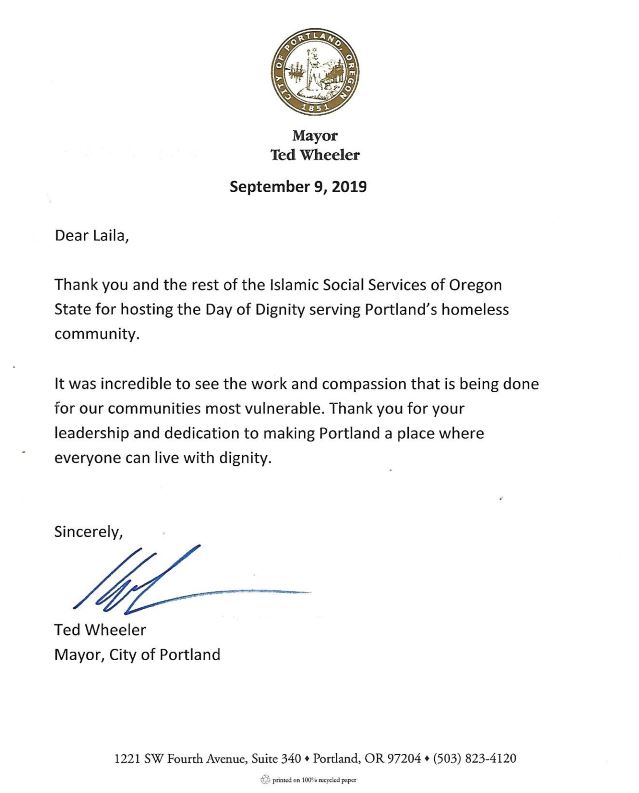 Youth provided services by taking surveys of the homeless and distributed supplies, providing a great opportunity for youth awareness of being homeless.